Frontpoint Vs. Simplisafe Vs. Protect America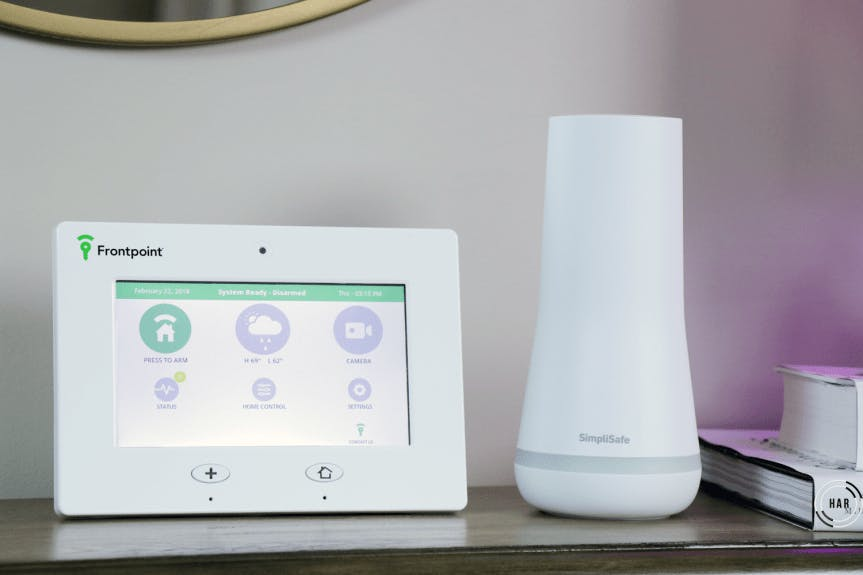 After testing and reviewing both Frontpoint and SimpliSafe, we wanted to share our experience and compare the two to Protect America just after completing our review.
All three companies offer 24/7 professional security monitoring, but they by no means approach the goal the same way.
tl:dr; — If you're looking for the short version Frontpoint is our top pick between the three companies.
Monitoring Cost Compared
How they monitor is one of the many things that makes them different. Frontpoint is a wireless sensor-based system and monitors using a cellular signal with broadband backup. SimpliSafe primarily uses broadband monitoring, but if you pay a monthly fee, you'll get cellular backup. The monthly fee is optional. Finally, Protect America offers the option to monitor the equipment with a landline, broadband, or cellular connection.
RELATED: BEST HOME SECURITY SYSTEM 2019
There is a reason why Frontpoint use cellular connection as their primary form of communication and why both SimpliSafe and Protect America offers it as a strong option. This is because cellular monitoring is considered to be the safest. A landline will not only add to the total cost (paying for phone service), but it is susceptible to outages and can be cut using a pair of wire cutters. Broadband communicates quickly but again won't work 24/7. If your internet goes out and you are using broadband monitoring, you're out of luck. On the other hand, cellular monitoring uses a cellular signal. It is fast and impervious to both internet and power outages. All that said, the price of monitoring will vary depending on what option you choose. For all three companies, we recommend professional cellular monitoring.
Monitoring Winner

There are pros and cons to all three systems when comparing them. Cellular monitoring may be the best, but offering options can't hurt, and Protect America offers the greatest flexibility. On the other hand, they are the most expensive. When it comes to being a low-cost provider, SimpliSafe has the upper hand. However, Frontpoint offers the most consistent service portfolio including 24/7 monitoring for burglaries, fire, and medical emergencies.
If you're on the fence between Simplisafe and Frontpoint, it is important for us to point out that for several years in a row Frontpoint has been our #1 choice for home security. If you're looking to setup service or just talk to someone more knowledgeable about your options, Frontpoint has set us up with a dedicated sales line to help you. (855) 246-7807
Monitoring Costs of Frontpoint, Simplisafe, & Protect America
| | | | |
| --- | --- | --- | --- |
| | | | |
| Monitoring Type | Cellular with Broadband Backup | Cellular / Option to Self-Monitor | Landline, Broadband, Cellular |
| Pricing | Protection Plan: $34.99 Interactive Plan: $44.99 Ultimate Plan: $49.99 | None: $0 Standard: $14.99 Interactive: $24.99 | Copper: $41.99 Silver: $49.99 Platinum: $54.99 |
| Offers 24/7 Monitoring | | Standard, Interactive | Fire Monitoring is $2.00/Month Extra |
| Smash-Proof Protection | Interactive & Ultimate | SimpliSafe 3 Only & Only Protects One Way | Unknown |
| Email & Text Alerts | Interactive & Ultimate | Plus Texts, Interactive | |
| App Access | Interactive & Ultimate | Interactive | |
| Geofencing | Interactive & Ultimate | | |
| Light Automation | Ultimate | | Through a Smart Module Only |
| Video Surveillance | Ultimate | Standard, Interactive | |
| Video History | Ultimate | Standard: $4.99/month/camera or $9.99/month/unlimited cameras | Interactive: Included | |
| Door Lock Automation | Ultimate | Interactive | |
| Remote Temperature Control | Ultimate | Via Works with Nest | They do not sell or suggest compatible smart thermostats. |
| Return Period | 30-Day Risk Free Trial | 60-Day Money Back Guarantee | 14 Days, $79 Restocking |
| Contract Length | 12-36 Months | No Contract Required | 36 Months |
| BBB Rating | A+ | A+ | A+ |
| Full Review | Frontpoint Security Review | Simplisafe Review | Protect America Review |
| Where to Buy | Setup Service | Setup Service | Setup Service |
Equipment Cost & Quality Compared
As we've purchased Frontpoint (new and old hardware), SimpliSafe 2, and SimpliSafe 3, we have a unique understanding of all of the systems. What we've learned is that cheaper isn't always better. We've also learned that not all of SimpliSafe 2's equipment is UL-listed and researchers have found security holes in the system.1 For this reason and others, we recommend SimpliSafe 3 over SimpliSafe 2. We also recommend the new Frontpoint hardware over their old hardware. If you call into Frontpoint to order, this is the hardware you will receive unless you specifically ask for an older control panel.
Equipment Included With Purchase
Most home alarm companies offer some equipment with an initial purchase/monitoring contract. Both Frontpoint and Protect America offer something for free, assuming you are willing to sign a three-year contract. However, as SimpliSafe doesn't require a contract, you will be required to purchase equipment upfront.
With Frontpoint, equipment pricing starts at $99.95 with a signed contract and approved credit. This price reflects a $300 discount which you can use to create your own equipment package. For example, you can get a Frontpoint Hub, Keypad, one Motion Sensor, and three Door/Window Sensors.
SimpliSafe sells set equipment packages. Their entry-level package sells for $229.99. It includes one Base Station and Keypad, one Motion Sensor, one Entry Sensor, and one Keychain Remote.
With Protect America, the equipment you receive depends on the monitoring plan you choose. Copper ($41.99) includes a Simon XT Control Panel, Motion Sensor, and three Door/Window Sensors. As you increase your plan, you will receive more Door/Window Sensors. For example, Silver offers nine and Platinum offers fourteen. The downside to this approach is that the equipment isn't flexible. Both Frontpoint and SimpliSafe allow you to customize equipment to get what you need.
Equipment Purchased A La Carte
But what about equipment not included with a monitoring contract? How much does it cost to add devices? The good news for all three companies is that you can add devices at any time and you can install the devices on your own. This is in contrast to companies like ADT that will require professional installation of any device you add.
| | | | |
| --- | --- | --- | --- |
| | | | |
| Door/Window Sensor | $32.99 | $14.99 | Unknown |
| Motion Detector | $64.99 | $29.99 | Unknown |
| Glass Break Sensor | $74.99 | $34.99 | Unknown |
| Key Fob | $31.99 | $24.99 | Unknown |
| Smoke Detector | $64.99 | $29.99 | Unknown |
| Flood Sensor | $44.99 | $19.99 | Unknown |
| Indoor Camera | $99.99 | $99.00 | Unknown |
| Outdoor Camera | $199.99 | Coming Soon | Unknown |
| Video Doorbell | $189.99 | $169.00 | Unknown |
Equipment Winner
Though SimpliSafe 2's equipment is the least expensive, it's not reliable. SimpliSafe 3 is vastly improved and well-priced. Protect America and Frontpoint both offer reliable equipment, but Frontpoint sells equipment for less.
Smart Home Services Compared
When a company says they offer smart home services, it's important to look into the details. This statement is often used as a brushstroke and may not mean what you think it means.
Frontpoint offers full home automation. You can automate your lights, small appliances, locks, thermostats, and you can even use your voice to control the system. On top of that, they offer a smart doorbell and the ability to create rules using a schedule or your location through geofencing. If you want to use your voice to control your Frontpoint smart home, you can use Alexa or Google Home. Frontpoint also works with some third-party devices like the August Smart Lock Pro, which works with Frontpoint's Ultimate Plan. However, use of August requires that you have an August Connect or August Doorbell Cam acting as a Wi-Fi bridge. (Though the August Video Doorbell will not work with your Frontpoint system).
SimpliSafe offers some automation. SimpliSafe 2 and 3 both connect to the Nest Thermostat through Works with Nest, the SimpliCam indoor security camera, Video Doorbell Pro, and August Locks including the original and Pro versions. However, Nest and August integrations are only available to customers who are subscribed to the Interactive tier. SimpliSafe 3 also works with Amazon Alexa devices and Google Assistant and they plan to add an outdoor camera. While SimpliSafe is headed in the right direction regarding integrations, you still can't automate devices in the traditional sense using rules or scenes.
Protect America also has a limited home automation offer. Through Protect America you can automate small appliances, smart thermostats, and locks, that's it. You can, however, add third-party devices. Protect America works with Amazon Alexa. With it, you can arm and disarm your security system using your voice. Protect America also works with the August Smart Lock Pro and they recommend the GoControl Z-Wave and Alarm.com Smart Thermostats.
Don't Discount the Mobile App
Of course, what a company offers doesn't matter nearly as much as how it performs. And when it comes to mobile app performance, these three companies vary greatly.
Frontpoint uses an Alarm.com-powered app which is available on multiple platforms including iOS, Android, Apple TV, and Kindle Fire. The app has a 4.4-star rating on both iTunes and Google Play. It's also highly customizable.
SimpliSafe's app used to be limited, but they've made improvements. From the app, you can arm your system, disarm it, check out live video footage, and manage alerts and system sensors. It holds a 1.5-3.5 star rating on iTunes and Google Play.
Protect America's app has struggled over the years, though they've recently improved their rating to 2.4-stars on both platforms. It allows more control over your system like Frontpoint's app, but the problem is that they are a security company trying to maintain a mobile app. They would be better off using an app from a technology company like Alarm.com.
Smart Home Winner
Who Has the Best Reputation?
A reputation is thankfully more than hearts and rants posted online. To us, a company's reputation is reflected in the policies they lay out for their customers. Frontpoint and SimpliSafe both offer ample time to test their systems. With Frontpoint, you have 30 days to test the system and service, and you can return it for any reason if you're not happy. With SimpliSafe, as they don't require a contract, you can simply sign up for monitoring for one month. If you aren't happy, you can return the equipment for any reason within 60 days. Protect America is the loser here as they offer a short 14-day return period and charge a restocking fee.
Protect America is also the loser when it comes to BBB scores, though not by much. They hold an A rating compared to an A+ for both Frontpoint and SimpliSafe.
Finally, what happens if you move? As all three companies offer wireless equipment, you can move for any time without penalty.
Reputation Winner

In general, all three companies have customer friendly policies, but SimpliSafe has the edge as they don't require a contract at all.
Bonus Protection
Finally, let's talk about ways the systems protect beyond fire and burglary monitoring.
Frontpoint's system uses dual encryption. They encrypt the signal sent between the Hub and the monitoring center and between the Hub and the sensors. Second, they offer Smash-Proof protection. If a burglar finds your Home Hub and smashes it, the initial soft signal that is sent as soon as a sensor is triggered is never resolved which means that it turns into an alarm event.
SimpliSafe has a feature similar to Smash-Proof, but it isn't as robust. If the Base Station is smashed during an entry delay, the signal dies. However, if it's smashed after a set entry delay, they will send help.
Bonus Protection Winner
Overall Winner
Frontpoint is our #1 Pick for 2019
30-Day Risk-Free Trial · Available Nationwide · Smash-Proof Protection
SimpliSafe offers a tempting no-contract, low-cost option for home security. Frontpoint and Protect America charge more but use UL-listed equipment and services. However, Frontpoint has the edge on price, home automation, and service.