Frontpoint Pros & Cons
Pros
High-Quality Customer Service

Best In Class Technology

Extensive Smart Home Solutions

Smartphone App Access

Cellular Monitoring

Tested & Recommended
Cons
No Landline/Broadband Monitoring

Frequent Pricing/Deals Changes
Who Is Frontpoint Most Ideal For?
Most alarm companies cater only to homeowners, likely because homeowners are usually the ones who are willing to commit to a long-term contract. Frontpoint is different. It caters to both homeowners and renters. Unlike most alarm companies that require a 3-year or 5-year contract, Frontpoint only requires a 1-year contract for renters. For homeowners, they can choose whether to sign a 1-year or a 3-year contract. On top of that, Frontpoint's equipment can easily be relocated to a new home because it's wireless. If you need to move to a new house before your contract with Frontpoint ends, you can take the system with you. Its flexibility and portability is one of the reasons Frontpoint can work for homeowners and renters alike.
Frontpoint is also a perfect choice for families. It's one of the very few alarm companies that offer multi-risk monitoring at no extra cost. If you're a Frontpoint customer, as long as you have the right equipment, Frontpoint will monitor for fire, flood, freezing pipers, carbon monoxide, medical emergencies, and intrusions.
Getting Started With Frontpoint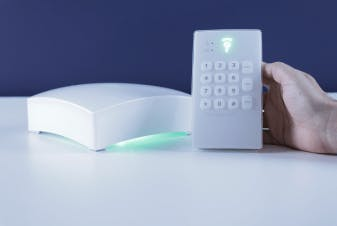 Frontpoint features a hybrid sales process. You can choose the traditional sales process where Frontpoint will give you a quote based on your security needs or you can shop for equipment online.
Traditional Sales Process
If you go with the former, the first step is providing Frontpoint some vital information about your security needs. You'll be asked about whether you're a homeowner, renter, or business owner, the approximate size of the house or business you're looking to protect, the number of doors, and your contact information. After supplying all the needed information, Frontpoint will give you a call and a sales rep will guide you through buying a Frontpoint system.
Shopping Online
If you already know what kind of system you want, the online sales process is recommended. Shopping online is made easy with equipment packages. Frontpoint offers a number of packages. Start by choosing a package that suits your security needs and then customize the package by adding extra equipment. If you'd rather build your own security system, you can also use the System Builder on Frontpoint's website.
Once you've hand-picked the devices that you desire, the next step is choosing a monitoring plan. Frontpoint offers a three-tiered monitoring plan. Protection Plan is the cheapest and it offers all-inclusive monitoring service (burglary, fire, medical emergency, etc.). Interactive Plan is a step more advanced. It offers all-inclusive monitoring, Crash & Smash Protection, Geo-Location Services, smartphone access, and email and text alerts. The most advanced is the Ultimate Plan, which includes everything offered by the Interactive Plan plus video surveillance features and home automation features.
The last step is payment. The total upfront price is decided by your contract term length. If you sign a 1-year contract, you'll get a small equipment discount. All you need to pay is the discounted equipment price plus the monitoring fee for the first month. If you choose a 3-year contract, you'll get bigger discounts. For example, a $600+ worth of equipment will only cost you around $200 upfront.
After paying the upfront fee, Frontpoint will ship the system to you along with instructions on how to set it up. It will be pre-configured so all devices work with each other out of the box.
Frontpoint Equipment Review
100% Cellular
Regarding equipment, Frontpoint uses 100% cellular security equipment. Cellular monitoring is considered the best choice for home security. Using a chip embedded into the control panel, the system communicates back to Frontpoint's monitoring centers. The signal is no different from a cell phone signal; however, sending a ping to a monitoring center doesn't require a strong signal. In fact, even those who are incapable of making cellular calls from their home might be able to use a Frontpoint system.
Wireless Equipment
Everything is also wireless with just a few product exceptions. Because the system is wireless, it's portable. If you're moving into a new house, you can take down the entire system from your old residence and re-install it in your new place. Frontpoint will even send you a moving kit that includes new double-sided adhesive tapes for your sensors.
The wireless system is also beneficial for installation. Frontpoint systems require self-installation; no technician needs to  come to your house to install the system—you simply do it yourself. Because it's wireless, installing it is easy. Most sensors use peel-and-stick adhesive tapes so no drilling is required. They also wirelessly connect to the Frontpoint base unit so you don't have to run wires all throughout your house.
Frontpoint Hub
Let's talk about the actual equipment, starting with the Frontpoint Hub. The Frontpoint Hub is a significant departure from what Frontpoint offered in the past. Frontpoint used to offer control panels from third-party manufacturers like GE and Qolsys. These control panels have a built-in keypad or touchscreen interface that you can use to control your security system. They are often installed near doorways for easy access. On the other hand, the Frontpoint Hub is a two-part device. The first part is the actual hub, which is a router-like device with no built-in user interface. It's the brain of the system and it's the one that sends alert signals to the monitoring center. The second part is a control keypad used to arm and disarm the security system.
Separating the hub from the keypad is a smart move for two reasons. One, you can connect multiple keypads to your Frontpoint system. For example, you can have one near your front door, back door, and bedroom. With multiple keypads, you can conveniently access your system wherever you are within the house. Two, you can hide the hub away somewhere more inconspicuous. If a burglar smashes your keypad, thinking that it's the one responsible for sending alerts, it won't matter because the hub is the one ultimately responsible.
The Frontpoint Hub also features backup technology that lets it run continuously even during power or cellular signal outage. First, it has a 24-hour uninterrupted battery backup. If you lose power, the hub can continue running for up to 24 hours and once power is restored, the battery backup recharges automatically. Second, if for whatever reason cellular signal fails, the hub supports broadband backup. By connecting it to your router, the hub can use your internet connection to send alerts to the monitoring center.
Finally, if you already own a Frontpoint system with an older control panel and want to upgrade, you're in luck. The Frontpoint Hub is backwards compatible.
Other Devices That You Can Control
The Frontpoint Hub's control keypad is only one of the many ways you can control your Frontpoint system. Frontpoint believes in accessibility, so it offers other devices that can control your system.
First is the Keychain Remote. It's a small keychain, kind of like a car alarm remote, that can arm, disarm, and trigger the system's panic mode. Frontpoint also offers a dedicated panic pendant that can trigger panic mode only.
Second, Frontpoint offers an intuitive smartphone app powered by Alarm.com. You can use the app if you're signed up to the Interactive or Ultimate plan. With the app, you can see the status of your security system, arm and disarm the system, monitor security cameras, and control smart home devices.
Third, you can use your voice if you have an Amazon Alexa device or Google Home. The Alexa Skill for Frontpoint is pretty advanced. You can lock and unlock your doors, open and close your garage, arm and disarm your system, and more. For example, you can say, "Alexa, tell Frontpoint to arm my system," and your system will arm. Of course, using your voice to disarm your security system presents unique security challenges. Alarm.com, the maker of Frontpoint's Alexa Skill, is combatting this two ways. First, you are required to create a PIN. When you ask Alexa to perform tasks like "unlock your door" or "open your garage," you will be asked to provide your PIN. Second, you can turn on two-factor authentication. A code will be sent to you Alarm.com-powered Frontpoint app, which you have to speak to Alexa.
The Google Home skill works similarly, but it's not as robust as the Alexa Skill. Just like Alexa, you can use the Google Home skill to control your security system, lights, thermostat, locks, or even your garage door. Just say, "Okay Google, ask Alarm.com to close the garage." Using this integration, you can even control groups of devices like lights. For example, you can combine all the lights in your living room under the group name "living room" and ask Google Home to turn off all living room lights.
Frontpoint Sensors
Frontpoint has a full range of wireless sensors. Their sensors are battery-powered and can communicate back to the Frontpoint Hub, your smartphone, the central monitoring center, or even other pieces of equipment.
The primary purpose of these sensors is to sense risks, such as break-ins, fire, flood, freezing pipes, and carbon monoxide. Sensors that detect intrusion are the door/window sensors, motion sensors, glass break sensors, and garage door tilt sensors. They're designed to provide security coverage for all entryways to your home. For other risks, Frontpoint offers smoke/heat sensors, flood sensors, and carbon monoxide sensors.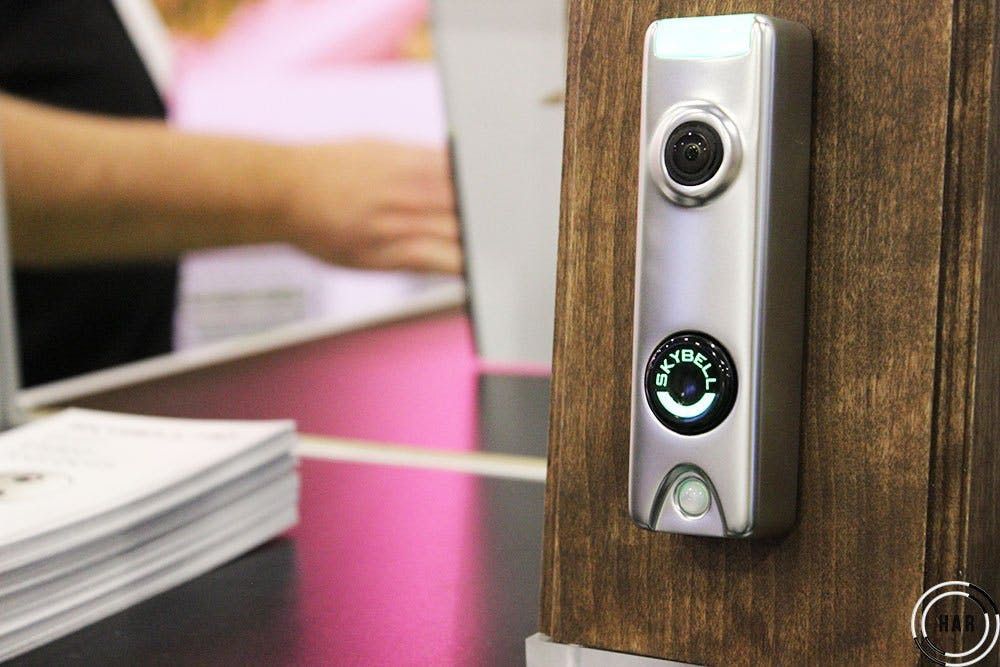 Frontpoint Cameras
If you want to add video monitoring to your home, Frontpoint offers four types of security cameras. These cameras require the an internet connection to operate.
The latest addition is the Alarm.com Premium Indoor Camera. It's an indoor camera with a wide-angle 180-degrees field of view. It offers traditional security camera features like motion detection, night vision, and digital zoom, but it's also a Bluetooth speaker that you can use to stream music. Another premium feature is its ability to initiate two-way calls to family members with just a tap of the button on the camera's topside. This can be used in emergency situations, for example. If a family member at home needs help, they simply need to tap the button and all users within the family can connect and use the two-way talk feature.
If you want a more traditional security camera, Frontpoint also offers a regular indoor camera. It features a 1080p resolution with a 113-degree field of view, night vision, and smart motion detection.
Frontpoint also offers an outdoor security camera. It's similar to the indoor camera, but it's weatherproof so it can stay outdoors.
Finally, Frontpoint offers a doorbell camera, the SkyBell Slimline. It's capable of two-way talk and one-way video. If someone is at your door, you can see and speak to them using your smartphone.
Frontpoint Home Automation Review
Frontpoint also offers home automation devices, but you can only access home automation features if you're subscribed to the Ultimate plan.
Frontpoint supports light, lock, and temperature automation. The thing is, Frontpoint doesn't sell all home automation products needed to automate your home. Instead, it recommends Z-Wave devices that you can pair with your Frontpoint Hub.
Best Thermostat To Use With Frontpoint
Frontpoint recommends several smart thermostats.
Z-Wave Thermostat (TBZ48D)
RCS Thermostat (TZ45)
2GIG Radio Thermostat (CT100)
Trane (TZEMT400AB32MAA)
We have one more thermostat to add to the list: the Alarm.com Smarter Thermostat. It's also what we recommend. For one, it's the most stylish among the other options. It also supports 3-stage heating and 2-stage cooling for both standard gas/electric HVAC and heat pump HVAC. The other thermostats only offers 2-stage heating and 2-stage cooling at most. The only downside of this thermostat is that it lacks touchscreen controls, but it makes up for that with the slew of features like Alexa integration and compatibility with Alarm.com Temperature Sensors. The Temperature Sensors are remote sensors that can help the thermostat optimize heating and cooling in different rooms.
Best Lock To Use With Frontpoint
As with smart thermostats, Frontpoint recommends several door locks for the Frontpoint system. These door locks are all powered by Z-Wave and allow you to lock/unlock your door from the smartphone app, give and revoke temporary access codes, and create automation rules that involve your front door. For example, you can make Frontpoint unlock your door whenever you enter a specific geo-location.
Currently, Frontpoint sells and recommends the Schlage BE469 Deadbolt, and so do we. This deadbolt comes in a satin nickel, aged bronze, or bright brass finish and sells for $159.99. The lock is ANSI Grade 1 certified, includes a touchscreen keypad, and works in temperatures ranging from -25.6°F to 150.8°F.
If the Schlage BE469 isn't for you, the following locks are also compatible:
Schlage Lever model# FE599
Kwikset Lever model #99120
Kwikset Deadbolt model #99100
Yale Real Living Keypad Deadbolt
Yale Real Living Touchscreen Deadbolt
Frontpoint also works with August Smart Lock Pro and Danalock V3. As these two locks lack an interface, what you can do when you pair them with Frontpoint is slightly different.
Using Frontpoint With An August Smart Lock Pro
We've tested Frontpoint and we've tested the August Smart Lock Pro as a standalone device. We've also spent a couple of months using Frontpoint and August together.
Connecting August To Frontpoint
With your August Smart Lock Pro installed and the right plan in place, connecting the lock to your panel is simple. Installation is best performed using the control panel, assuming you have a touchscreen control panel. If you don't, we suggest you call Frontpoint and ask them to walk you through the pairing process.
To pair the lock using your touchscreen panel, you must plug the panel in and place it within 5 feet of your August Lock. Next, follow the steps below.
Click Settings
Advanced Settings
Enter Code 6827 (this is the installer code for the Frontpoint panel)
Click Installation
Z-Wave
Add Device
Pair
Add
At this point, your panel will start searching for available Z-Wave devices, and it should find your lock.
Features
According to August,1 the partnership between August and Alarm.com allows you access to five distinct features:
Timed Auto-Lock: Locks the door if it's closed for a specific duration as set by you.
Location-Based Locking Reminders: Sends a reminder to your Frontpoint app to lock the door the second you live a specified location.
One-Touch Remote Locking: Lets you lock/unlock your door using a single button on the Frontpoint app.
Unexpected Activity Notification: Alarm.com's Insights Engine, an AI with learning ability, might send you notifications if an unexpected activity occurs (or doesn't occur).
Scenes Integration: Frontpoint offers a Scenes feature, where you can configure your devices to work together. Using this feature, you can integrate your locks to work with other smart home devices powered by Frontpoint.
Our Thoughts On Using August With Frontpoint
August is one of our favorite smart lock brands and Frontpoint consistently rates well on our website, but using the two together didn't provide a solid experience.
For one, we never got to make the Timed Auto-Lock feature to work. We contacted August's support but even they don't have any idea why. The feature does work if you use the August App instead of the Frontpoint app. From the app, head to the lock settings page and look for an option labeled "Auto-Lock." You can set the timer between 30 seconds and 30 minutes.
Second, although One-Touch Arming via the Frontpoint app works, it's slow. We found it easier and faster to lock/unlock August using the August App. In fact, we tried to use it to unlock the door for guests several times and never once were we able to unlock the door in a reasonable amount of time.
After using the lock for a couple of months, we've found that we prefer using the August app to control the lock. It's easier, faster, and more trustworthy. The sole value of the integration between Frontpoint and August is Scene Integration.
Frontpoint Monitoring Review
With regards to monitoring, Frontpoint ensures that it offers the best there is.
All-Inclusive Monitoring
For one, unlike other companies that require a separate monitoring fee for intrusion and fire and medical emergencies, Frontpoint offers an all-inclusive monitoring. As long as you have the right equipment, Frontpoint will monitor for all kinds of risks at no extra cost to you. For example, even if you only subscribe to the Protection plan, as long as you have medical monitoring equipment, Frontpoint will monitor your system for medical emergencies.
Crash & Smash Protection
If you're a Frontpoint customer subscribed to the Interactive or Ultimate plan, you also get Crash & Smash Protection. Crash & Smash is a method used by professional burglars wherein they destroy the control panel immediately before it sends out an alarm to the monitoring center. This method works in most cases because alarm panels are programmed to wait a few seconds before sending an alarm, giving users enough time to enter their PIN if it was them who tripped the sensor. If the PIN is not entered within the given amount of time, only then will most control panels send a distress signal.
Frontpoint is different. Once a sensor is tripped, the base unit immediately sends an inactive alarm signal to the monitoring center. If you enter your PIN within the grace period, the signal will cancel and the monitoring center will call you. If the PIN wasn't entered, probably because the intruder doesn't know your PIN or has already destroyed your alarm keypad, the inactive alarm signal becomes active and the response protocolo will activate.
Of course, Crash & Smash Protection is already redundant because with the new Frontpoint Hub, the keypad and the base unit are separate. If the intruder destroys your keypad, it won't matter because the Frontpoint Hub is the one ultimately responsible for sending alerts. If the intruder finds and destroys the Frontpoint Hub, however, Crash & Smash Protection will kick in.
Monitoring By Rapid Response Monitoring Services
As for the actual monitoring, Frontpoint doesn't do the job itself. It outsourced the task to Rapid Response, a company that provides monitoring services. Rapid Response has established two monitoring centers in the country; one in the East coast (Syracuse, NY) and one in the West coast (Corona, CA). The purpose of having two monitoring centers in both coasts is redundancy. If calamity strikes in either coast and prevents one monitoring center from operating, the other can takeover.
In addition to having redundancy, each monitoring center is equipped with power and communication backup. The monitoring center in New York, a 75,000-square-foot facility, has four digitally controlled backup generators and four 150kVA uninterrupted power supplies. On the other hand, the smaller 35,000 square feet monitoring center in California has two backup generators and two uninterrupted power supplies.
Frontpoint Customer Service Review
Frontpoint isn't the only professionally monitored home security system out there. In fact, we've compared it to other outstanding alarm companies, such as Vivint and ADT. You can read our Frontpoint vs. ADT vs. Vivint comparison here. What sets it apart from others is its focus on the customer. Customer service is Frontpoint's brand, and it's willing to do what it takes to maintain that brand. Frontpoint holds an A+ rating with the BBB, hundreds of positive online reviews, and multiple Angie's List Super Service Awards (7 years running). It offers a full array of online self-help documents and videos. It puts it all out there. There are no surprises, hidden fees, or trick contracts.
30-Day Free Trial
Frontpoint offers a 30-day risk-free trial. If you're a little uncertain about committing, we suggest that you take advantage of the trial. You do have to pay upfront for monitoring services and any additional equipment you want to try, but if you find that the system isn't for you, simply return it. It's a true, 100% money-back guarantee.
If you fail to return the system within 30 days, you will be on the hook to complete your contract. If you want to break the contract, you must buy-out the remaining contract value at 80%. For example, if you are subscribed to Interactive and have a year left on your contract, you'll pay around $432. The only exception to this is moving outside of Frontpoint's service area. And this seems like a good time to tell you that Frontpoint covers the entire U.S. and parts of Canada.
Moving Policy
Frontpoint has one of the friendliest moving policies we've seen. Other alarm companies may require that you buyout your contract or pay the penalty for moving. That is not the case with Frontpoint. They will support your moving efforts by providing a free mover's kit.
As the equipment is wireless, all you have to do is call and tell them it's time to move. Next, pull the tab on the back of your sensors to remove the adhesive, package up the equipment using the moving kit, and use the new adhesive (included in the mover's kit) to re-install the system at your new home.
Frontpoint FAQs
Is Frontpoint available nationwide?

Frontpoint offers products and services nationwide in all 50 states.

When was Frontpoint established and who owns it now?

Frontpoint has only been in the alarm industry for a decade and it has ever since operated as Frontpoint, LLC.

What type of security systems and services does Frontpoint offer?

Frontpoint is known to offer self-installed security systems and alarm monitoring services. They were one of the first alarm companies to standardize wireless systems and cellular technology.

Does Frontpoint offer home automation products and smart home features?

Frontpoint offers several home automation products and has collaborated with third-party brands to allow integrations. Their smart home platform is powered by the Frontpoint app.