What's the catch? In most cases, a long-term contract is required, which means you'll need to use their monitoring service for a number of years as set forth by your monitoring agreement. If you're okay with that, this article explores several options available to you so you can get a security system without shelling out hundreds of dollars. 
Free Equipment vs. Equipment Financing
The two popular options are free equipment and equipment financing. There's a difference between the two. 
If you choose a company that offers free equipment, you'll typically get a security system that includes a set number of devices. Your security system will depend on which monitoring service you'll choose. However, free security systems only come with basic security devices, such as motion sensors and door/window sensors. If you want to add more accessories, like glass break sensors, fire alarms, or carbon monoxide sensors, you will have to purchase them separately and pay for them upfront.
Pros
Potential For Zero Upfront Payment

No Monthly Fee Increase

No Additional Penalties in Case of Early Termination
Cons
Limited Customization

Additional Equipment Purchases Must Be Paid Upfront

Likely Requires A One-Time Installation Fee
Companies with a financing option don't offer free security systems, but instead of requiring you to pay everything upon signing up, you can choose to pay the equipment cost in monthly installments, usually with 0% APR. The equipment cost is then added on top of the monthly service fee. If you cancel service without finishing the contract, however, aside from the penalty, you'll need to pay for the remaining equipment balance.
Pros
Customizable Equipment Packages

No Interests
Cons
Increases Your Monthly Fee

You Must Pay Equipment Balance In Case of Early Termination

First Monthly Installment To Be Paid Upon Signing Up
There's actually a third and better option that combines the best of both worlds. These are companies that offer equipment packages with huge discounts. You will still need to pay around a hundred dollars for the equipment package initially, but for doing that, you'll get a security system worth several hundred dollars. Your monthly fee won't increase and in case of early termination, there won't be any equipment balances to pay. 
Whichever of the three options you choose, there's a security company we can recommend.
Best Security System With Free Equipment — ADT
ADT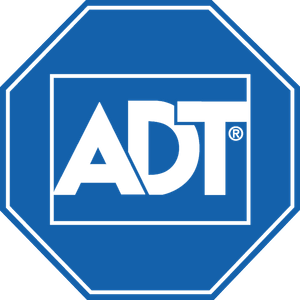 ADT is the oldest alarm company in the country and is arguably the most popular home security company. They are best known for their wireless security systems, professional monitoring services, and home automation platform called ADT Control. 
ADT offers two equipment packages designed to work with their monitoring services. Both packages are included for free if you set up service with them, but additional products are also sold separately in case you want to expand your security system. 
The first package, given to those who choose their entry-level plan, includes a touchscreen control panel, three wireless door/window sensors, and one pet-immune motion sensor. A yard sign and window decals bearing ADT's logo is included as well. This package is worth at least $300 if the devices are purchased individually. Take note that a landline connection is required to use this security system.
The second package, geared towards the Total Protection and Premium Protection plans, includes the same devices plus a CellGuard module. The module allows the use of cellular signal for monitoring, which is far more reliable than landline monitoring. 
Additional devices, like security cameras, key fobs, smoke alarms, and glass break sensors are sold separately. 
Keep in mind that while ADT offers free equipment, they also require professional installation. The base rate for the installation is $99, although it may increase depending on the number and type of devices being installed. 
Click here for more information about ADT's deals, prices, and promos, or read our in-depth ADT review if you'd like to know more about their products and services.
ADT FAQs
Does ADT really offer free equipment?

Yes, but the inclusions are limited. Additional devices need to be paid upfront.

How much will it cost me to set up an ADT security system?

The actual cost varies from case to case, but typically, you will need to pay a $99 installation fee and the monitoring cost for the first month of service ($36.99 to $52.99).

Do I need to sign a contract to get free equipment from ADT?

In exchange for the free security system, you will need to sign a three-year contract with ADT.

What are not included in ADT's free security systems?

Cameras, add-on security products, and home automation devices are not included in the free security system and will need to be purchased separately.
ADT is Our Top Pick for 2020
Available Nationwide · All-Inclusive Monitoring · 6-Month Guarantee
Brinks
Best Security Systems With Equipment Financing — Brinks
The revamped Brinks brand, formed through a licensing agreement between Brinks, MONI, and LiveWatch, is a strong and popular option for those looking to bring down the upfront cost of setting up a security system. 
Brinks offers two equipment packages, both of which can be paid in 36 monthly installments with 0% interest. The monthly installment cost is added to the monthly monitoring cost. Alternatively, you can choose to pay the full price of the package upon signing up, essentially bringing down your total monthly bill. 
The first package offered by Brinks is designed for the Complete Home plan. It's Brinks' entry-level plan that offers home security features, remote smartphone access, and home automation. The package is inclusive of a touchscreen control panel, a motion sensor, and three door/window sensors. If paid upfront, the package is worth $499. If financed, $13.86 will be added to your monthly bill for 36 months. 
The second package is worth $599 and is inclusive of a control panel, three door/window sensors, a motion sensor, an indoor camera, and a video doorbell. The monthly installment for three years is $16.64. 
You can read more about Brinks' packages and deals here or explore Brinks' features and devices in our Brinks review.
Brinks FAQs
How much will it cost me to set up a Brinks system?

You will only need to pay the service fee for the first month of service plus the first monthly installment for the equipment. All in all, it will only cost you around $50.

Do I need to pay Brinks' an installation fee?

No. You can install Brinks yourself and avoid installation and activation fees.

What will happen to the security system if I cancel service before the end of contract?

The security system will remain yours, but you will need to settle the remaining equipment balance and pay the penalty for early termination.

Should I pay for additional Brinks equipment upfront?

You can pay for them upfront, have it financed, or buy them well after the starter package is installed.
Brinks is One of our Top Picks for 2020
Available Nationwide · 2-Year Equipment Warranty · ASAPer
Best Security System With Big Equipment Discounts — Frontpoint
Frontpoint is currently our number 1 pick for 2019, partly because of the value that they offer. 
Frontpoint offers a total of six equipment packages, ranging between $430 and $1,332. Although the price of their packages is steep, you can easily get over $300 discount if you sign a three-year contract. For instance, you can get the cheapest equipment package for only $69 to $99, reflecting an at least $330 discount. This package is inclusive of a Frontpoint Hub, remote keypad, one motion sensor, and two door/window sensors. A yard sign, door sticker, and window decals are included as well. 
Better still, the second and third packages, cost the same ($69 to $99). The second package is a nine-piece system that includes three door/window sensors and two motion sensors, in addition to the hub, keypad, yard sign, door sticker. Window decals are also included. The third package swaps the two motion sensors with two glass break sensors. Both packages reflect a $450+ discount. 
As you go with a higher package, the discount also increases. The biggest equipment package, which is originally worth $1332.84, will only cost you $832.84. 
For more information on these packages, you can check out our Frontpoint review. You may also read our assessment of Frontpoint deals and promos to find other ways to save.
Frontpoint FAQs
How much will it cost me to set up a Frontpoint system?

Since Frontpoint is self-installed, there are no installation fees. You will only need to pay the first month of service plus the discounted price of the equipment package. All in all, a basic system will cost you around $100 to $150, including the first month of service.

What will happen to the equipment if I cancel my Frontpoint contract?

The equipment will remain yours, but you'll be asked to pay a penalty equivalent to 80% of your remaining contract balance.

What if I don't want to sign a three-year contract with Frontpoint?

Frontpoint does offer a one-year contract option, but opting to sign a one-year contract instead of three years will void the $300+ discount.

What if I need additional equipment for my Frontpoint system?

Instead of buying additional equipment individually, you can check if the higher packages can cover your needs. Buying packages is the best way to save money. However, if the devices you're looking for are not included, you can buy them individually from Frontpoint.