ADT is the oldest alarm company in the country, with a history spanning over a century. Brinks, on the other hand, may not be as experienced as ADT, but it has developed into a household name in the alarm industry. MONI and LiveWatch, the two companies that merged to form Brinks, also have a reputable history in the field of home security.
Given their history and fame, ADT and Brinks have surely popped on your browser while researching security systems for your home. This comparison guide will help you decide which of the two alarm companies is better suited for your needs.
Brinks Pros & Cons
Pros
Low Cost Monitoring

Equipment Financing with 0% APR

30-Day Trial Period
Cons
A Three-Year Contract Is Required

Frequent Offer & Deals Changes

History of Poor Customer Service
Brinks is One of our Top Picks for 2023
Available Nationwide · 2-Year Equipment Warranty · ASAPer
ADT Pros & Cons
Pros
Well-Established Company

Smart Home Features with ADT Control

Free In-Home Consultations
Cons
Customer Service Complaints

High Monthly Fees

Expensive Calcellation Fees
ADT is Our Top Pick for 2023
Available Nationwide · All-Inclusive Monitoring · 6-Month Guarantee
Their Similarities
Standard Three-Year Contracts
History of Customer Service Issues
Well-Established Alarm Companies
Wireless Security Systems
Equipment Financing
Their Differences
Equipment — Brinks both offers Alarm.com-powered equipment and supports Nest Secure systems. ADT only offers equipment specifically designed for their service.
Sales Process — You can buy Brinks products online or through an over-the-phone consultation. You can only set up service with ADT by directly speaking to a sales rep over the phone or via an in-home consultation.
Return Period — Brinks gives their customers 30 days to return their equipment and get a refund if they don't like the system or service. ADT has no such policy, but they are willing to offer refunds if there are issues with the system installation within the first six months.
Installation — Brinks' equipment is designed for DIY installation, while ADT requires professional installation by one their technicians.
Sales & Pricing Comparison
Sales Process
ADT, the oldest alarm company in the U.S., still employs the traditional sales process wherein customers are required to consult with a sales rep before setting up service. You can talk to a sales rep directly by calling ADT's sales hotline. They might also offer a free in-home visit to better understand your security needs. While Brinks offers the same free consultations, Brinks customers can also order their products online. This is the ideal sales process if you already know what kind of system you need and if you'd like to remove all possibilities of being upsold by a sales rep.
Winner: Brinks
Pricing
ADT and Brinks are both competitive in terms of pricing. ADT has monitoring plans starting at $36.99 per month, although this plan uses landline only as a means of communication. If you want the more secure cellular monitoring, prices start at $42.99 per month. Brinks, on the other hand, has standardized cellular monitoring. Brinks has a two-tiered pricing structure, starting at $29 per month. The more expensive plan, which includes video monitoring features, has a $39 monthly rate. Keep in mind that although Brinks monthly rate is lower, the equipment fee is not yet covered. With ADT, the monthly fee already covers payment for a starter kit.
Winner: ADT
Equipment Purchase
One key difference between Brinks and ADT is how the equipment is sold. With ADT, all plans come with a pre-determined set of products. The starter package is free, but if you wish to add more devices, you can purchase them individually. Add-on devices are paid upfront. With Brinks, you have the option to pay $499 to $599 for the starter package upfront or have it financed with 0% interest payable in three years. Additionally, Brinks offers Nest Secure equipment, both for straight up payment and financing. They monitor Nest Secure systems for $29 per month, whether you bought the equipment from them or from somewhere else.
Winner: Brinks
Brinks
Installation
Another key difference between the two alarm companies is how their systems are installed as well as the installation cost. ADT requires professional installation, which means there's an installation and activation fee. Brinks' equipment is designed for DIY installation. There are no fees and you can do it during your own free time.
Winner: Brinks
Key Features & Tech
Standard Equipment
Brinks and ADT's monitoring plans each come with a corresponding standard equipment package. Interestingly, their packages include the same types of equipment. A touchscreen control panel, a motion sensor, and several door/window sensors are included in their entry-level plans, and an additional indoor camera is thrown in if you choose their higher level plans. Of course, if you opt for a Nest Secure system with Brinks monitoring, the standard package changes to a Nest Guard (hub), two Nest Detects (multi-sensor), and Tags (RFID key tags).
Winner: Tie
Home Automation
Brinks' home automation platform is built into their smartphone app, which you can access as soon as you set up service with them. Brinks' equipment support smart lock, light, thermostat, and appliance automation, while their app supports schedules, rules, and scenes. ADT provides the same automation features and accessories, but their platform is powered by ADT Control and only mid-level and high-level plan subscribers have access to it.
Winner: Brinks
Cameras
In the field of cameras, our two competitors both cover all areas. They offer indoor cameras, outdoor cameras, and video doorbells. Brinks and ADT also both reserve camera and video monitoring features for their high-level plan users. With Brinks, the plan with video features has a rate of $39 per month, while ADT's high-end plan costs $52.99 per month.
Winner: Brinks
ADT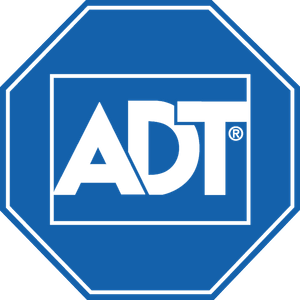 Smartphone Access
Brinks' app, Brinks Home Security, is open to all users. It features remote arming and disarming, push notifications, security camera streaming, and a lot more other features that can make your home security system more conveniently accessible. ADT Control, on the other hand, is reserved to customers on the mid-level or higher monitoring plans. However, ADT has another app called ADT Go. It's not tied to the security system. Instead, it's a family safety tracker app offered for free to all ADT customers, with optional premium features that can be unlocked for $9.99 per month.
Winner: ADT
Monitoring Method
Brinks uses cellular monitoring with broadband backup. In case of an emergency, an alarm signal is transmitted to their central station using cellular signal or your internet connection in case the reception is poor. ADT uses the same process for their mid-level and high-level plans, but for entry-level plans, they use landline monitoring. Landline monitoring isn't as secure or reliable as cellular monitoring, but it typically costs the user less.
Winner: ADT
Customer Service Experience
Contracts
Brinks and ADT both require contracts, which means if you sign up, you must use their service for a certain duration or pay a penalty to cancel. Customers of both companies are required to sign a three-year contract. As an exemption, Brinks customers that use Nest Secure can cancel anytime.
Winner: Brinks
Early-Termination Penalty
If you don't uphold your end of the contract and cancel before the end of its term, you'll need to pay a penalty. With ADT, the penalty is equivalent to 75% of the remaining contract balance. For example, if you have three more months on your contract, the penalty is 75% of your monthly fee multiplied by three. Brinks' early termination penalty is also computed based on your contract's remaining balance, but instead of 75%, you'll be charged 80%.
Winner: ADT
Moving Policy
As both companies offer wireless equipment, you're allowed to relocate your system to a new house in case you change your residence. However, Brinks has a more lenient moving policy, allowing you to move anytime without fees and charges. With ADT, you must reach out to their customer service before moving, as their moving policy differs from case to case.
Winner: Brinks
Return Policy
After signing the contract, you're given a number of days to try out the system, during which you can return it and get your money back without incurring penalties. Brinks' return policy allows you to return the system and cancel service within 30 days of signing the contract. With ADT, you're only protected by three-day Right of Rescission. However, if there's something wrong with the system or installation that ADT can't fix within the first six months of use, you're entitled to a refund of your monthly service payments and installation fee. The contract, however, will persist.
Winner: Brinks
The Bottom Line: Who Wins?
Brinks and ADT are both reputable companies, and while they are alike in many ways, they are actually suited for different types of customers. Brinks is more flexible, so it's best for starting families, young professionals, or even renters. ADT has more rules, and as a corporate giant, they are not always forgiving. We recommend ADT if you have a long-term security need and absolutely sure that they can cater to those needs. Feature-wise, ADT is also more capable.
If you want to learn more about what ADT can offer, check out our ADT review. Our in-depth Brinks review also contains useful insights you can use to decide between the two alarm companies.
Comparison Summary
| | | |
| --- | --- | --- |
| | | |
| | Brinks | ADT |
| Customer Service | 7 | 9 |
| Equipment | 8 | 8.9 |
| Features & Technolgy | 8 | 9.3 |
| Ease of Use | 8.3 | 9 |
| Value | 7.5 | 9.4 |
| Monitoring Type | Professional | Professional |
| Installation Type | Professional or DIY | Professional |
| Integrations | zwave, Alexa, Google Home | Alexa, Google Home, zwave |
| Coverage | Nationwide | Nationwide |
ADT is Our Top Pick for 2023
Available Nationwide · All-Inclusive Monitoring · 6-Month Guarantee