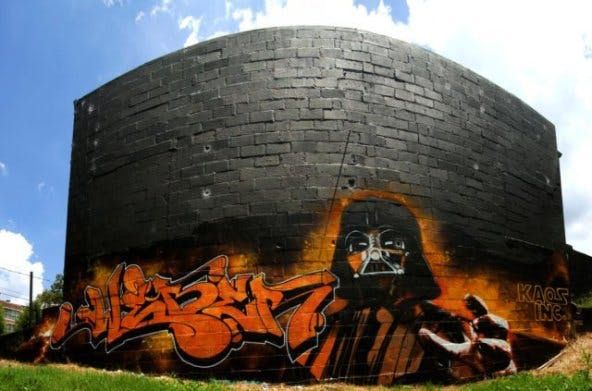 FUN FACT:If you're thinking of moving to Atlanta, let me clue you in on one little secret….no one says "Hotlanta". According to the Bustle, each neighborhood has its own personality.
Bringing your Midtown swag to a VaHi venue is a quick way to get some fierce side-eye. Don't mix cultures. Leave your Midtown life in Midtown, go bohemian at Little Five Points, and reserve your over-relaxed "life is good" attitude for Dunwoody.
Picking a neighborhood can often mean finding the balance between lifestyle fit and security. Below is information geared toward helping you find the best home security system for you and also a safe neighborhood to call home.
National Home Alarm Companies in Atlanta
Frontpoint and Link Interactive are our top recommended national home security companies. We selected them for the way they do business. They treat customers right. They lock in your monthly rate for the entire term of your contract, let you move for free if you need to, support you, and they don't have hidden fees. What you see is what you get.
Frontpoint Security
Frontpoint is our top recommended alarm company. This is because they have high-quality systems, dependable monitoring centers, and excellent customer service. Frontpoint offers wireless equipment that is easy to install on your own, so no installation fees. Their system communicates with the monitoring center via a cellular signal, one of the most efficient methods in the industry. They also offer smart features such as smartphone control, home automation, and video surveillance.
As for their customer service, Frontpoint is top-notch. They hold an A+ rating with the BBB, they are an Angie's List Super Service Award Winner, and 94% of their customers would recommend Frontpoint to a friend.
A+ BBB Rating
Angie's List Super Service Award Winner
Home Automation
Link Interactive is One of our Top Picks for 2019
Flexible Contract Terms · Crash & Smash Protection · All-Inclusive Monitoring
Link Interactive
Link Interactive is our number two pick. Much like Frontpoint, Link's systems are wireless and backed by Alarm.com. They also offer smart features. What differentiates Link from Frontpoint is how they handle customers. Don't get me wrong, Link does a good job, but Frontpoint is better. Still, you should check out Link if you're looking for an alarm company.
1-877-826-5443
Read Review
A+ BBB Rating
Angie's List Super Service Award Winner
Home Automation
Local Home Alarm Companies in Atlanta
Locally we recommend either Ackerman or EMC. Both companies offer the option of wireless monitoring and excellent customer service which puts them in the same category as Frontpoint and Link.
Ackerman
If you have existing equipment, Ackerman is your place. They can change over most systems and will charge just $19.95 per month to monitor your existing equipment.
Ackerman provides security systems and monitoring for homeowners in Georgia and the DC/Maryland/Virginia area.
770- 552- 1111
www.ackermansecurity.com
Rated B by the Better Business Bureau
EMC
EMC holds that same impressive Angie's List Super Service Award as Frontpoint and Link. They can also takeover and monitor existing equipment. Out of the two local companies, I would say that EMC looks slightly stronger than Ackerman. Their alarm takeover starts at just $16.95 per month, and they provide alarm monitoring service on a month-to-month basis.
Since 1998, EMC Security has proudly serviced over 70,000 homes and businesses in Georgia.
770- 963- 0305
https://emcsecurity.com/
Rated A+ by the Better Business Bureau
If you do add alarm service in Atlanta, don't forget your alarm permit.
Crime Statistics for Atlanta
During the mid-20th Century, Atlanta had a major crime problem—murder, burglary, violence, and rape. For more than three decades, Atlanta was on the top five list of the most dangerous cities in the US. But don't worry. As the US crime rate decreased, Atlanta also successfully decreased its crime rate.
Atlanta is safer than 2% of US cities. Yes, that means less safe than the other 98%. When you're in Atlanta, you have a 1 in 17 chance of being a victim of a property crime. As a whole, Georgia has a lower crime rate, with a 1 in 33 chance of being a victim of a property crime. The national median for property crime is 24.9 per 1,000 residents.
Atlanta's Neighborhoods and Safety
Atlanta, like most cities, has a dark side and a safe side. If you're planning to move to Atlanta, do your best to avoid these neighborhoods:
Humphries Street SW : 1 in 12 chance of becoming a victim in a year
Richardson Street : 1 in 11 chance of becoming a victim in a year
Marietta Street : 1 in 9 chance of becoming a victim in a year
Carter Street : 1 in 8 chance of becoming a victim in a year
McDaniel Street : 1 in 10 chance of becoming a victim in a year
On the other hand, these neighborhoods are considered the safest:
S Johnson Ferry Rd NE/ Mill Creek RD NE
Druid Hills
Vinings
Regency Woods Dr/ Briarwood Way NE
Chatham Rd NW/ Andrews Dr NW
Resources:
SuburbanStats.org
wikipedia.org
tripsmarter.com
neighborhoodscout.com
bbb.org
Photograph "I AM your FATHER!!" by frankieleon. Attribution 2.0 Generic (CC BY 2.0)